Erica Garcia -Cello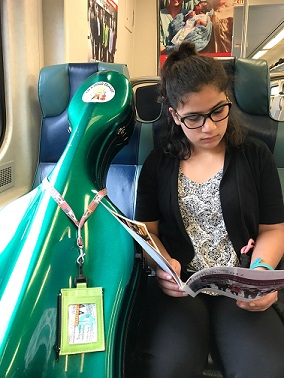 My name is Erica Garcia and I have been playing cello for over five years. When I was three years old, I started taking piano lessons at a Suzuki school. I loved playing piano and continued with several teachers and advanced rapidly. In 2012, I was a winner at Concert Festival and performed a Bach minuet on an old Steinway concert grand at a recital in New York City. I was very excited and very nervous. In third grade, my parents discussed playing an instrument in school and I chose cello. In February of my third grade year, my dad came home with a cello and my parents showed me how to hold it and how to play a scale. After a week, I figured out how to play the Star Spangled Banner from watching the Olympics. By the next year, I started to perform piano and cello with my piano teacher accompanyng me at recitals. Shortly after, I stopped taking piano to pursue cello more seriously.

As I continued to work at cello and continued to advance through middle school. At this time, I have received a NYSSMA score of 100 on both my level 5 and level 6 solos and play cello in an orchestra for young musicians outside of school. Additionally, I have won two concerto competitions and have soloed twice with an orchestra. All this before entering high school! Over the past few years, I have listened to younger students work on their NYSSMA solos and I believe they would benefit if they had a chance to hear an advanced student play them. Some students work on their NYSSMA solos without the help of a private music teacher and some students need a little help between lesson I created this website for aspiring young musicians and their parents who would like some assistance when preparing their NYSSMA solos. I hope you find my website helpful and informative as you continue your own journey through music.
Good luck to you!
~Erica Garcia
Erica is a cello student of George Dewar, past teachers include Brittney Dagro and Carole Purdy, she has been selected to play in All-County and Long Island String Festivals. She also has been a member of The Gemini Youth Orchestra, where she has performed with the String, Philharmonia and Youth Symphony. She has won the Gemini Youth Orchestra's concerto competition for the String and the Philharmonia orchestras where she was featured as a soloist two years running. Erica has also participated in the USDAN summer shool of the arts for three years where she received additional instruction with Susan Lehr, and performed under the direction of Susan Witmar, Adam Glaser, Vincent Liondi and Kageki Nagao. She has served as section leader in her elementary and middle school orchestras where she has consistnatly hold the position of section leader of the various orchestras in the school.